UAS Regulations
Currently, the best source of information regarding the current state of the industry and the Unmanned Aircraft Systems (UAS) regulatory environment can be found on the Federal Aviation Administration's website.
UAS come in a variety of shapes and sizes and serve diverse purposes. Regardless of size, the responsibility to fly safely applies equally to manned and unmanned aircraft operations. The Federal Aviation Administration is currently partnering with several industry associations to promote safe and responsible use of unmanned aircraft. Read more about the Know Before You Fly educational campaign. For additional information visit: 3dinsider.com
Different Types of UAS Operations
There are currently three different types of legal UAS Operations that can occur within the United States and below you will find a link that will discuss each operation in more detail.
Recommendations to Promote Safety for UAS and Agricultural Aviation Operations
The North Dakota Aerial Applicator Association (NDAAA) has been pro­active in educating the public regarding safe operating practices for UAS and agricultural aviation operations. Download this document to view their recommendations.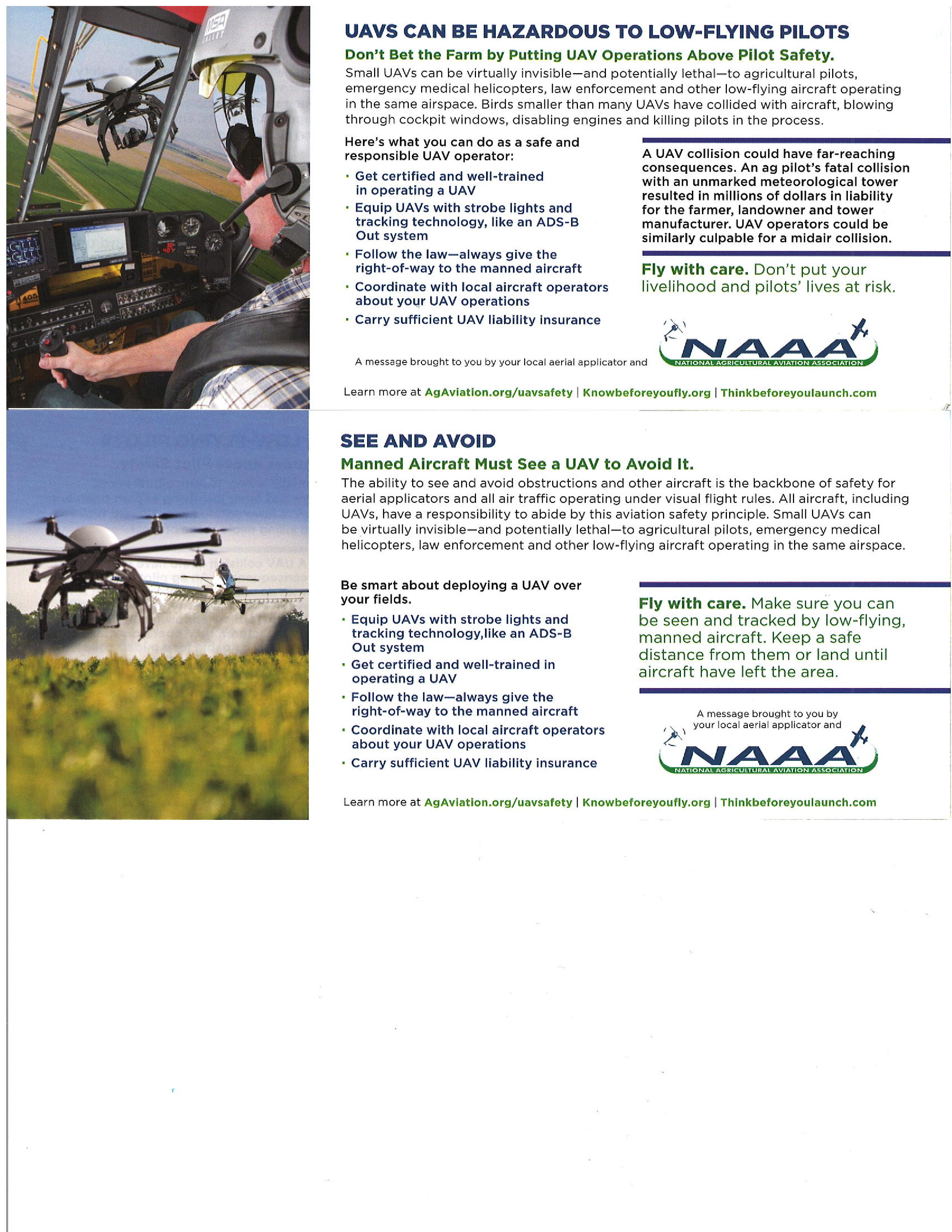 UAS Sightings
Reports of unmanned aircraft (UAS) sightings from pilots, citizens and law enforcement have increased dramatically over the past two years. The FAA now receives more than 100 such reports each month. The agency wants to send out a clear message that operating drones around airplanes, helicopters and airports is dangerous and illegal. Unauthorized operators may be subject to stiff fines and criminal charges, including possible jail time.
The FAA continues to work closely with its industry partners through the "Know Before You Fly" campaign to educate unmanned aircraft users about where they can operate within the rules. The agency also is working closely with the law enforcement community to identify and investigate unauthorized unmanned aircraft operations. The FAA has levied civil penalties for a number of unauthorized flights in various parts of the country, and has many open enforcement cases.
The FAA encourages the public to report unauthorized drone operations to local law enforcement and to help discourage this dangerous, illegal activity. To view the current report of UAS Sightings, click here.