Events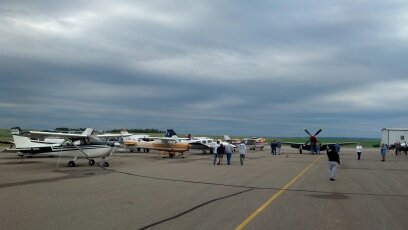 To have your event added to the listing of events,
please contact ndaero@nd.gov
June 2023
Mandan Fly-In — Jun 11 to Jun 11Mandan, NDPlanes & Pancakes
3rd Annual Bottom Line Aviation/KBWW Poker-Run/Fly-In — Jun 17 to Jun 17Bowman, ND (KBWW)For details or questions email Brent Kline at fuel@bottomlineaviation.com
Valley City Fly-In — Jun 17 to Jun 17kBAC
New Town Fly In — Jun 17 to Jun 1705D
Garrison Fly-In Breakfast — Jun 18 to Jun 18Garrison, NDFather's Day - Pancakes and eggs with ham!
Dunn County Airport Fly-In/Drive-In — Jun 24 to Jun 249Y1Terminal Grand Opening 10-2 mst
July 2023
Mercer County Regional Airport Annual Fly-In — Jul 08 to Jul 08Mercer County Regional Airport (HZE)Pancake and Sausage Breakfast
Northwood Fly-In Breakfast — Jul 22 to Jul 224V4Fly-In breakfast benefitting the local youth wrestling program!
August 2023
Stanley Fly-In — Aug 05 to Aug 0508D
2023 Williston Basin Airshow — Aug 19 to Aug 19XWA
September 2023
See the Berlin Express — Sep 01 to Sep 03BISB-25 Flight Experience (outside Hangar 53)
Hettinger/ JB Lindquist Regional Fly-in — Sep 09 to Sep 09kHEIHettinger, ND
Beulah Fly-In Breakfast — Sep 09 to Sep 09Beulah, ND 95D
Bismarck Fly-In — Sep 10 to Sep 10Bismarck ND
Harvey Fly-In Breakfast & Consignment Auction — Sep 16 to Sep 16Harvey ND 5H4Open to the Public - Events all Morning!
October 2023
Fly-ND Career Expo — Oct 05 to Oct 05Dakota Territory Air MuseumMinot, ND
7th Annual Props & Hops — Oct 05 to Oct 05Y19Mandan, ND
UAS Summit & Expo — Oct 10 to Oct 11Alerus Center, Grand Forks, NDThe UAS Summit & Expo started as a small gathering of regional stakeholders. Now, 17 years later, the event in the Northern Plains of North Dakota has become a yearly major event for UAS experts from around the world. It's the original epicenter of drone research, earned its place as the Silicon Valley of Drones and as you'll see from the commercial, government and military flight activity filling the sky of the Northern Plains and beyond every day, it has truly become America's UAS proving grounds.