Passport Program
The North Dakota Aeronautics Commission partnering with the North Dakota Department of Commerce- Tourism division, along with the ND Pilot's Association and Airport Association of ND are co­sponsoring the "Fly North Dakota Airports" passport program. The program rewards pilots who fly to North Dakota's publicly­owned airports, attend FAA safety seminars, and visit North Dakota's aviation museums. "Fly North Dakota Airports" promotes safety and education, and encourages pilots to practice approaches and landings in many different environments. It's also a great way to support general aviation airports, businesses, and tourism."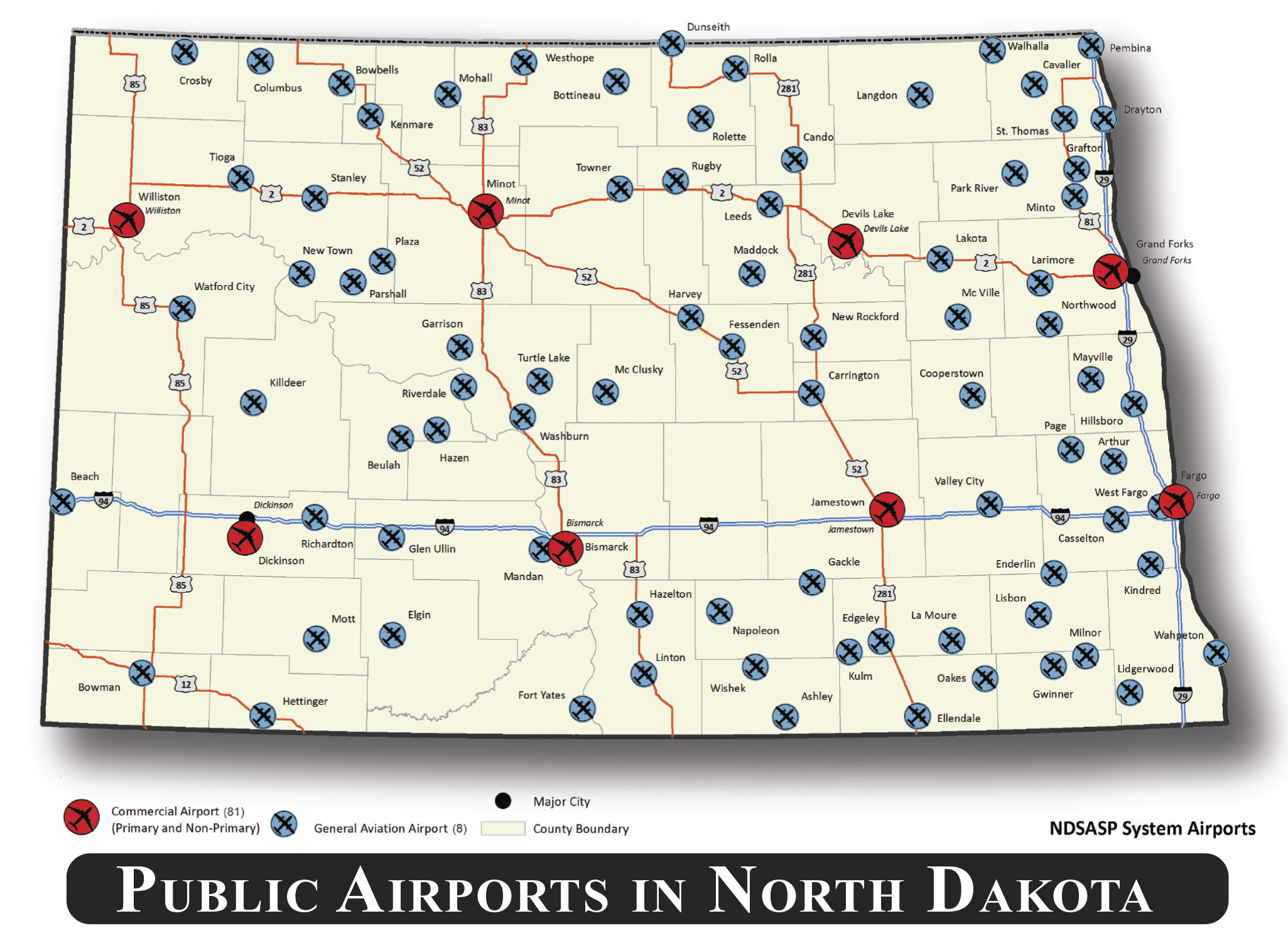 To participate in the program pilots should pick up a Fly North Dakota Airports passport book and keep it with them while they fly. Each publicly­owned airport in North Dakota, as well as both air museums, will have a stamp that pilots use to stamp the appropriate box in their passport book. Once an award level is reached the pilot mails or presents their passport book to the North Dakota Aeronautics Commission office in Bismarck. Awards and recognition will be given at the annual Upper Midwest Aviation Symposium.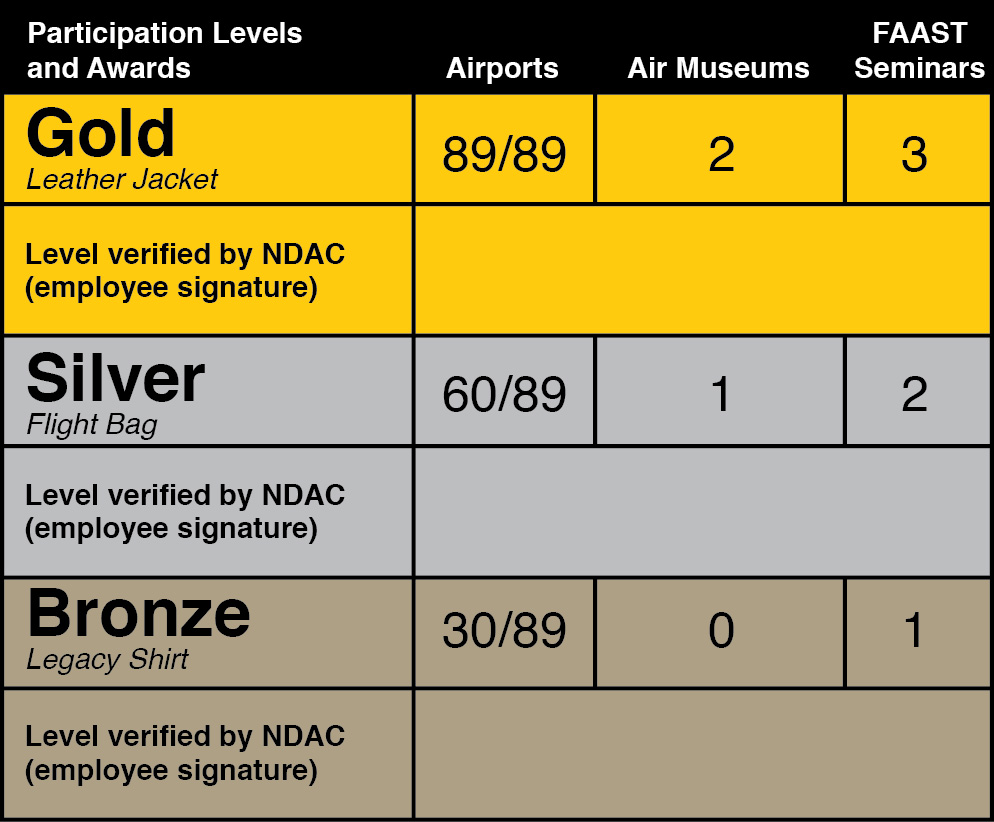 1. Once I complete the Bronze level, can I continue using my same passport for the Silver or Gold levels?
Yes, once a passport has been submitted and reviewed, it is returned to its owner and can be used to advance to the next level of the program.
2. Where at the airport do I find the stamp?
At most of North Dakota's airports the stamp resides in the Arrival and Departure Building next to the visitors log. Or they are in "Box on Post" near the hangar or spray office.
3. I visited a North Dakota Airport that wasn't able to stamp my passport (no stamp, no passports, etc.). What do I do?
If you are unable to get a stamp at a North Dakota airport, please contact the North Dakota Aeronautics Commission on time and date of visit, 701-­328­-9650.
4. Who is eligible?
Any FAA licensed pilot from any state can participate in the North Dakota passport program.
Please complete the form below or use this link
Gold Level Recipients in attendance at the 2022 awards presentation
Included in the attached photo: (Left to Right)
Kyle Wanner - ND Aeronautics Commission, Steve Martens, Robert Sprague, Ethan Sprague, Bob Simmers, Justin Weninger – ND Aviation Association
Past Gold Level Recipients
| Year | Name | City |
| --- | --- | --- |
| 2022 | Greg Clabots | Green Bay, WI |
| 2022 | Maria Cole | Ellsworth, WI |
| 2022 | Kevin Deutscher | Tempe, AZ |
| 2022 | Taylor Exizidis-Meier | Fargo, ND |
| 2022 | Patrick Haye | Minot, ND |
| 2022 | Steven Jensen | Tioga, ND |
| 2022 | Ari Johnson | Watford City, ND |
| 2022 | Russell Kinneberg | Plymouth, MN |
| 2022 | Greg Malkowsky | OshKosh, WI |
| 2022 | Steve Martens | Stanley, ND |
| 2022 | Bob Simmers | Bismarck, ND |
| 2022 | Robert Sprague | Courtnay, ND |
| 2022 | Ethan Sprague | Courtnay, ND |
| 2021 | Deen Brecht | Golden Valley, ND |
| 2021 | Pat Fagan | Paulden, AZ |
| 2021 | Jean Moe | Detroit Lakes, MN |
| 2021 | Michael Moe | Detroit Lakes, MN |
| 2021 | David Operchal | Minot, ND |
| 2021 | Jayme Opp | West Fargo, ND |
| 2021 | Dale Ripplinger | Cathay, ND |
| 2021 | Scott Williamson | Phoenix, AZ |
| 2020 | Matthew Brugger | Jamestown, ND |
| 2020 | Walter Coombe | Bismarck, ND |
| 2020 | Michael Haubrich | Racine, WI |
| 2020 | Patrick Haye | Minot, ND |
| 2020 | Naomi Haye | Minot, ND |
| 2020 | David Hochalter | Valley City, ND |
| 2020 | Keith Hugo | Grand Forks, ND |
| 2020 | Jon Owen | Luverne, ND |
| 2020 | Chuck Refling | Bottineau, ND |
| 2020 | Kyle Schmaltz | Minot, ND |
| 2020 | Joshua Simmers | Carson, ND |
| 2020 | John Vold | Fargo, ND |
| 2020 | Tami Witt | Racine, WI |
| 2019 | James Busch | Chicago, IL |
| 2019 | Terry Bryn | Dazey, ND |
| 2019 | Kelly Braun | Dickinson, ND |
| 2019 | Gale Hansen | Valley City, ND |
| 2019 | Keney Krein | Ellendale, ND |
| 2018 | Hank Bodmer | Kenmare, ND |
| 2018 | Reid Gagner | Fargo, ND |
| 2018 | Mark Gainor | Milnor, ND |
| 2018 | Mitch Gwidt | Green Bay, WI |
| 2018 | Lawrence Hubbard | Wilton, ND |
| 2018 | Ben James | Norcross, GA |
| 2018 | Flint Kasowski | Buffalo, ND |
| 2018 | Ron Lundquist | Kindred, ND |
| 2018 | Kevin Pfeifer | Buffalo, ND |
| 2018 | Kevin Vossler | Bismarck, ND |
| 2017 | Doug Anderson | Berthold |
| 2017 | Carol-Beth Beaird | Aledo, TX |
| 2017 | Arvid Boe | Langdon |
| 2017 | Francis Butler | Fargo |
| 2017 | Devin Cole | Minot |
| 2017 | Brad Cruff | Wahpeton |
| 2017 | Todd Ellig | Horace |
| 2017 | Wendy Lessig | Tooele, UT |
| 2017 | NIck Meyer | Burbank, CA |
| 2017 | John Morgan | Mandan |
| 2017 | Jay Pratt | Ft. Worth TX |
| 2017 | Roy Seckerson | Jamestown |
| 2017 | John Solberg | Bismarck |
| 2017 | Yvette Tracy | Elyria, OH |
| 2017 | Bill Tracy | Elyria, OH |
| 2017 | Pete Weisbeck | Bismarck |
| 2017 | Jake Werner | Fargo |
| 2017 | Roy Wiege | Bismarck |
| 2016 | Keith Landeis | Mandan |
| 2016 | John Ronsberg | Bismarck |
| 2016 | Shawn Anderson | Rogers |
| 2016 | Jerry Miller | Garrison |
| 2016 | Hubert Bleese | Enderlin |
| 2016 | Larry Loose | Jamestown |
| 2016 | Bob Roswick | Bismarck |
| 2016 | Harold McConnell | Cavalier |
| 2016 | Jamie Bryn | Dazey |
| 2016 | Francis Cox | Duvall, WA |
| 2016 | Terry Schaff | Bowman |
| 2015 | John Goerger | Barney |
| 2015 | Allan Goerger | Barney |
| 2015 | Thomas Benson | Lakota |
| 2015 | Michael Paulson | Fargo |
| 2014 | William Ueckert | Bismarck |
| 2014 | Keith Veil | Jamestown |
| 2014 | Dale Seckerson | Jamestown |
| 2014 | Jay Dugan | Jamestown |
| 2014 | Jon Kreilkamp | Valley City |
| 2014 | Richard Cavett | Enderlin |
| 2014 | Rodney Schaff | Bowman |
| 2013 | Larry Gebhardt | Grand Forks |
| 2013 | Jeff Faught | Bismarck |
| 2012 | Deon Villhauer | Bismarck |