Watford City Municipal Airport has as been recognized as North Dakota's 2022 General Aviation Airport of the Year
Posted 3/08/23 (Wed)
Watford City Municipal Airport has been recognized as North Dakota's "2022 General Aviation Airport of the Year." Airports receive this award for excellence in community outreach, facility management, construction and beautification projects, and participation and hosting of special events. This award is sponsored annually by the North Dakota Aeronautics Commission in partnership with the Airport Association of North Dakota.
Presenting the award was Ryan Riesinger, President of the Airport Association of North Dakota and Kyle Wanner, Executive Director of the North Dakota Aeronautics Commission. Accepting the award for the Watford City Airport was Steve Reeves, Airport Authority Board Member and Luke Taylor, Airport Manager.
Airport Accomplishments for 2022:
In 2022, Watford City completed a major renovation project which was the culmination of approximately a decade of planning and hard work. Their runway underwent major reconstruction, and was shifted to a new location where its expanded final length is now 6,550 ft. The project also included a new lighting system, as well as a full-length parallel taxiway which will greatly enhance safety for all airport operations. These enhancements will now allow the community in the epicenter of Bakken to accommodate most large business jets. Overall, these infrastructural improvements are going to be critical in accommodating the growing needs of the Bakken and Watford City region.
Watford City Municipal Airport exceled in community outreach in 2022. They hosted an annual fly-in/drive-in, coordinated with other local community events. Watford City also continually supports local weather modification and crop spraying operations to aid local farmers and protect agriculture. They also hosted an emergency air crash rescue training and Boy Scout merit badge events.
The airport also hosts a radar facility operated by the Northern Plains UAS Test Site. This work is innovating the use of Unmanned Aircraft Systems and building a new future for aviation, while researching ways to successfully integrate UAS into the National Airspace System.
Congratulations to the Watford City Municipal Airport on their extraordinary achievements in 2022!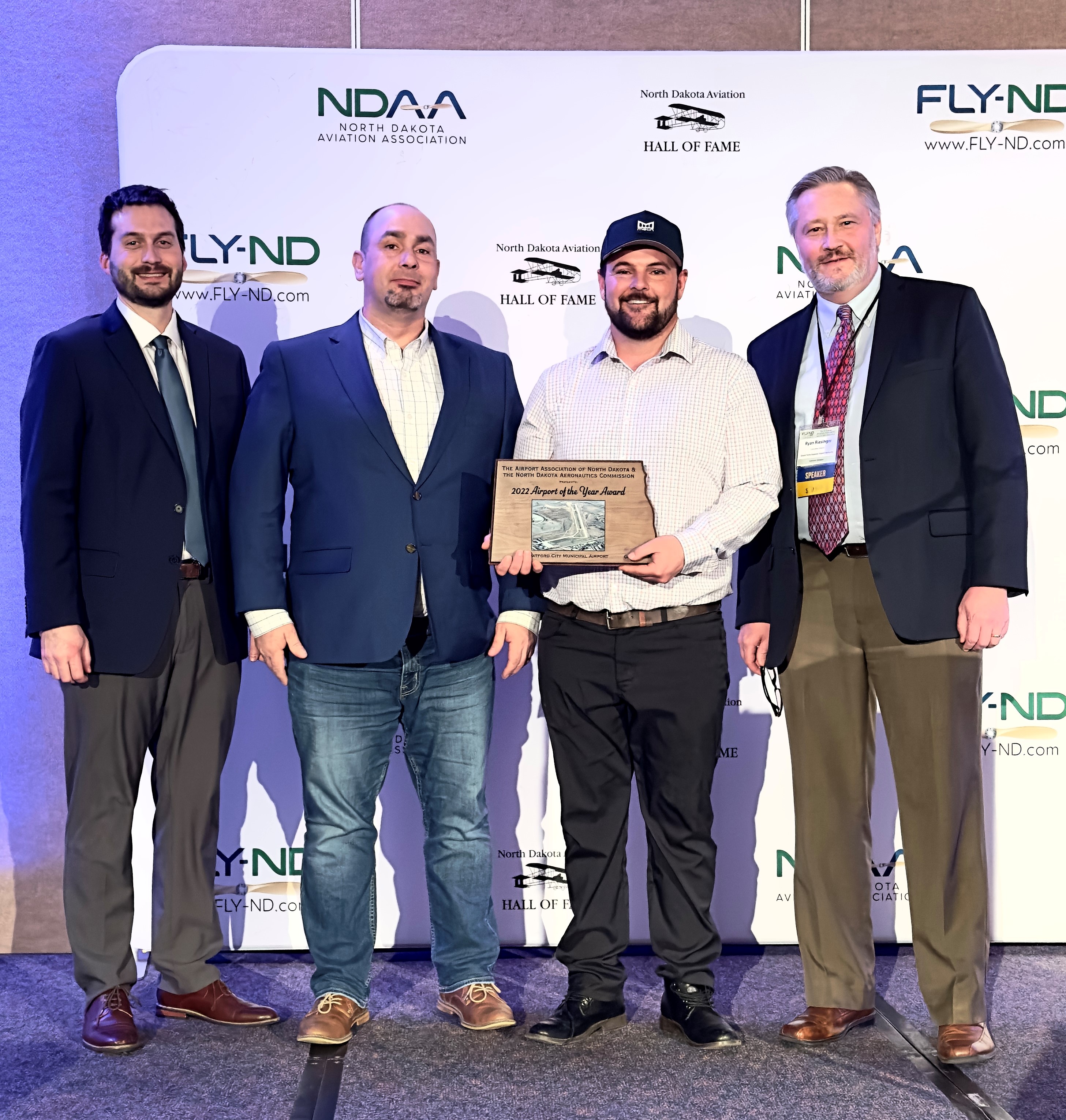 The Watford City Municipal Airport receives the 2022 General Aviation Airport of the Year award during the North Dakota Aviation Association's FLY-ND Conference awards banquet on March 7th, 2023. Pictured from left to right is Kyle Wanner (Executive Director, ND Aeronautics Commission), Steve Reeves (Watford City Airport Authority Board Member), Luke Taylor (Watford City Airport Manager), and Ryan Riesinger (President of the North Dakota Airport Association).