Events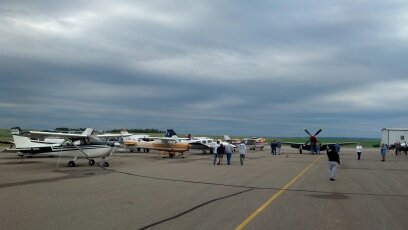 To have your event added to the listing of events,
please contact ndaero@nd.gov
DUE TO COVID-19 CONCERNS, PLEASE CONFIRM EVENTS WITH AIRPORT MANAGER
JT Rice-ND Chapter - Pilots for Christ - 8th Annual Celebration
From Sunday, August 02 10:00 AM
to Sunday, August 02 2:00 PM
Location: 6D3
The J.T. Rice North Dakota Chapter of Pilots for Christ will be holding their 8th annual Fly-In Celebration and Golf Ball Drop at the Maddock Airport on Sunday, August 2. Fly-In begins at 10:00 am with an outside all-faiths service and a complimentary bag lunch to follow. Each attendee will receive a complimentary numbered golf ball and matching ticket when arriving. Following lunch, the group will drop the numbered golf balls from a helicopter at a target (golf Flag). The closest ball to the target will win a new gas grill as the grand prize. Other prizes include: a one-hour helicopter tour, an airplane tour, Medora tickets for two, Kindle Fire and several other gift certificate prizes.

Due to public safety regarding Covid19 we will not be offering Airplane Rides, and Helicopter Rides during the 2020 event
The JT Rice-North Dakota Chapter serves the State of North Dakota, with Free urgent air and ground transportation, with focused service on ambulatory patients, seeking treatment at distant medical locations, terminally ill patients, seeking to return home to family, pastors and missionaries within the scope of their duties, and additional considerations to veterans, and the general population with valid urgent transportation needs.
There is an endless need to help others and provide urgent transportation. This is an invitation to all North Dakotan's, aviator's, and supportive individuals to attend this event. With a 3000' cement runway and a new taxiway, the airport can accommodate most all aircraft wanting to land in Maddock. The event will be a fun filled day for the whole family and a great way to spend a great August summer day. Everyone is welcome!
This will be a fun Fry-in for the whole family or group of pilots…. See you on August 2nd.
Please contact Pat Tracy-President, JT Rice-North Dakota Chapter, Pilots for Christ, Intl., for RSVP, agenda, or additional information.
Contact information: Pat Tracy, JT Rice-North Dakota Chapter of Pilots for Christ, thegrocer@gondtc.com or call 701-438-2343 or 701-739-9024. Visit our website: www.pilotsforchrist-nd.com